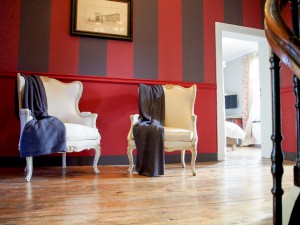 The Hotel is housed in the old presbytery of the village (1845). Acquired by the current owners in 2014, it has been transformed, renovated and enlarged for the sake of authenticity and respect for the style of this beautiful building.
La Cure de Fresin (Vorsen) is located in the Limburg Hesbaye along the linguistic border between Sint-Truiden and Hannut. Easily accessible, the Cure is 1,5 km from the E 40 (Brussels-Liège), exit 28A (Berloz).
Many plantations of fruit trees (apples, pears, cherries…), the land of diverse cultures and Roman tombs (tumuli) characterize this rural and tourist region.
Housed in a mansion located in the immediate vicinity, the owners are at your disposal. They fitted each of the 10 rooms ensuring your comfort.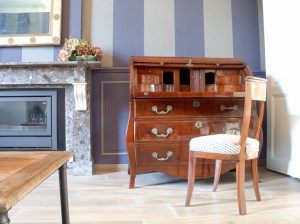 Lovers of antiques and art objects, Marc has taken care to interior design, timeless style (antique furniture or style unearthed in antique shops and various auction houses, wallpapers and colors directly inspired by Flamant house; gleaned tissues in Bruges house decoration). Guaranteed cozy spirit!
Architect of the gardens and landscape, his wife Dominique designed the gardens, the kitchen garden, the car park space and terraces with the help of renowned architect Alain Dor of Hasselt. Landscape & Partners office was responsible for executing the work.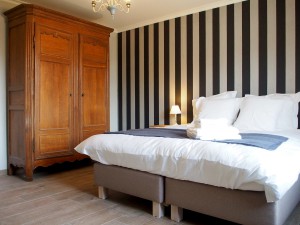 Each bedroom has a bathroom with shower and toilet, and a WiFi connection. Not to mention the free parking and a secure shed for bicycles.
The Wellness of The Cure is available during your stay when you check in. Just let yourself go to relax in our wellness center. Fitness, jacuzzi and sauna punctuate your relaxation time.
At The Cure of Fresin, we know that you come to us to relax in a place of serenity.